Rosie Bescoby BSc (Hons), PG Dip CABC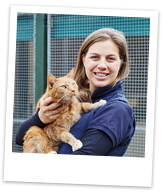 Rosie is a fully qualified Clinical Animal Behaviourist with a degree in Zoology & Psychology from the University of Bristol & a Post-Graduate Diploma in Companion Animal Behaviour Counselling from Southampton University. She is a full member of the Association of Pet Behaviour Counsellors, a member of the Association of Pet Dog Trainers (No. 1006), and registered as both a Clinical Animal Behaviourist & as an Animal Training Instructor with the Animal Behaviour & Training Council (the regulatory body that represents trainers & behaviourists to both the public & to legislative bodies).
Rosie has benefitted from working with some of the world's most respected Clinical Animal Behaviourists & continues to attend seminars/conferences & practical handling workshops to continually develop & expand her skill set (click here for a full list of all completed Continuing Professional Development courses).
Over 20 veterinary practices in & around Bristol and North Somerset refer to Rosie as their preferred behaviourist. She has an excellent relationship with co-professionals, including other force-free trainers & behaviourists in the area who form a support network for pet owners using up-to-date methods. In addition to working on an individual basis with clients, Rosie also:
Has previously taught undergraduate veterinary students at a leading UK university
Marks undergraduate degree-level coursework and APBC applications
Is APBC Press and Media Officer
Assesses dogs prior to child adoption or fostering
Provides Expert Witness assessments for legal cases
Regularly contributes to magazines such as Your Cat magazine, Petplan magazine and Companion Animal scientific journal
Works for Holly Hedge Animal Sanctuary as their behavioural advisor, working hands-on with the animals and conducting staff training
Conducts staff training for veterinary practices, including educating on low-stress handling techniques and training for puppy 'parties'
Spends time with her family – two boys, Jack aged 6 and Charlie aged 3; her husband Sam, an equine veterinary surgeon; two dogs Freddie and Spice; two cats Holly & Fearne; two ponies Raindrop & Bomber and five chickens.
Rosie Bescoby BSc (Hons), PG Dip CABC