See what our clients have been saying...

"Thank you Rosie, so much good advice and lots of ideas. We used some of your techniques today and have had a really stress free day. Sometimes just understanding why your dog is behaving as they are helps you as the handler. Your advice yesterday has made me so much more confident and guess what that helps Milo, if I am less stressed so is he!"
- Adele & Milo
"Rosie helped us with a problem we were experiencing with our tabby cat Charlie urinating on things when we returned after going out for the day. She gave us some very in depth advice which we implemented and now the problem is greatly improved. I would recommend Rosie to anyone looking for help with pet problems. Do it sooner rather than later as most problems get bigger the longer you leave them." - Carly & Charlie

"Last year we got a new dog from a rescue centre and although they had done a great job, Paloma was still in need of a lot of help. Rosie was blooming brilliant with Paloma and us! Paloma did not want to travel in a car at all and now we have a dog who gets in the car at the sound of the keys! :) we worked on a few other behaviour issues, all which have been resolved and I cannot recommend Rosie enough :)"
- Terri & Paloma
"Poppy the lab and her family have benefited greatly from Rosie's friendly, professional and practical advice. She's always been able to tailor our sessions to exactly what we need, whether it's a home visit, assessing behaviour out on a walk, or giving individual support and feedback during one of the excellent Gundog workshops we've attended. Rosie is our go-to person for making sure we have a happy, relaxed, responsive and well adjusted dog. Being a dog parent can feel overwhelming at times, but having Rosie on board makes a huge difference!" - Kathryn & Poppy
"Understanding animals is an amazing gift, when we had Ace we had no idea he would suffer from lack of confidence with unfamiliar people and dogs & separation anxiety. Rosie's assessment of him & guidance has turned him around. We now know why Ace behaves the way he does & how we can help him. Today I walked him with a friend & his two dogs & he was amazing. Thanks Rosie" - Benita & Ace
"Our trainer recommended Rosie from Pet Sense and having had our appointment last week I wouldn't hesitate to recommend her. She is a professional behaviourist, 100% force-free, very professional, great credentials and also covered by insurance companies if needed." - Catherine & Nutmeg
"I just wanted to say a massive thank you. This is the first time since we got Max that we've really felt like we are taking strides forward. We know there will be ups and downs along the way, but we really are going in the right direction and we couldn't be more grateful. Thank you. " - Emma & Max

"Lola is a 5year old Labrador/Collie cross who has been seriously fear-reactive towards other dogs since a couple of negative incidents during her puppyhood and adolescence. We were referred to Rosie at Pet Sense. At this point we were walking in the most isolated places we could find and avoiding any uncontrolled contact with other dogs. If another dog came too close, Lola would lunge and snarl and I was constantly anxious. We had no kind of normal interaction. Rosie did a home visit to assess the situation (this included a walk to see her response to other dogs) and immediately made me feel much more positive and confident that we could at least moderate Lola's behaviour. Rosie gave us some exercises to practice before our next meeting to try to change Lola's response to other dogs. These were very manageable and didn't involve doing anything either of us would have felt uncomfortable with. Rosie also explained the psychology behind Lola's behaviour, and her calm, friendly, knowledgeable and reassuring approach was wonderful. I can't go into detail of everything that's happened since, but that first visit was three months ago and today Lola and I have been on two walks, the first with four dogs, the second with three, all off lead. She and I were both relaxed. I'm learning to manage potential situations before they get out of hand, she's learning that she can choose other behaviours beside reactivity when she meets a new dog. She is a much more confident and happy dog. There is still a way to go, her social skills still aren't great but we're both learning, I'm confident things are going to continue to improve. If someone had told me at the beginning of this year that we'd be where we are now, I honestly wouldn't have believed them. The change has been amazing. Rosie has literally turned our lives around for the better. My only regret is that we didn't find her earlier. I really cannot recommend her highly enough. "
- Lesley & Lola

"Harry was a rescue dog. Whilst in kennels he became very stressed and was constantly barking at other dogs. Rosie assessed him for us and was confident that he would improve with training and patience. We brought him home and he settled into the house and family life very well and very quickly. However when taken for a walk as soon as he spotted another dog he would become very aggressive, baring his teeth, barking and pulling hard on his lead. This situation did not improve. We were very concerned that we had made a huge mistake thinking that he would never be let off the lead and wouldn't be able to enjoy playing with other dogs. We took him to Rosie who immediately put our minds at rest, explaining exactly what was happening and why he was behaving this way. She then went on to tell us how to help him get over his fears, using many training methods all designed to increase Harry's confidence. It didn't happen over night as warned but soon after we were able to let him off the lead without fear of fighting and his anxiety levels dropped every day. None of this would have happened without Rosie, she has helped both Harry and ourselves to enjoy life more. Thank you Rosie."
- Andy & Harry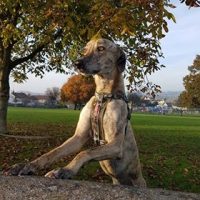 "The first few days after we rehomed Prince it was extremely hard work. Literally – blood, sweat and tears. We were left thinking 'what have we done?' but we didn't want to give up. Rosie came round – she listened to our concerns, reassured us through our tears and left us feeling so confident about the future! Three weeks on things had drastically improved. He was more relaxed. He wasn't stressing out in the evenings. He learnt that being cuddled and having a blanket on him was OK! Now 2 months on we couldn't imagine life without Prince. The stress, tears and sleepless nights were worth it. Patience and dedication is key. We cannot say enough how rewarding it is to see and know what we have achieved with Prince with the help of Rosie."
- Charlotte & Prince

"Thanks for all your kindness and support. Knowing there was someone there I could email and get positive encouragement from has meant the world to me. Really. You always replied to me quickly and always had something positive to say to put me back on track and motivate me. I sometimes felt the emotional support was as valuable as the technical advice you gave me. I have grown to realise that there is not one big 'cure' to sort him out, but rather lots of little things that all fit together to help support him. You've been fab!"
- Kath & Bingo

"What we liked about Rosie's training was that before she said anything to our 12 week old lurcher puppy Nancy, she asked us what our concerns were and stuck to these throughout the sessions. We were fascinated to watch how she subtly helped Nancy to interact with her, without any dominating commands, and how Nancy enjoyed it. She showed us how Nancy needs to be engaged and mentally stimulated, and then how she needs to calm down and rest. She had plenty of ideas for ongoing management of our concerns. Nancy, whose opinions we respect, clearly saw Rosie as somebody who knows a thing or two about dogs- and likes them. For us it was perfect that she came to our house, and saw Nancy in her home environment. We are so glad we did it, and think it was excellent value for money."
- Nancy - puppy problem prevention

"Rosie was wonderful today in our first session. She was calm and clear and made us feel safe and happy on our walk. Couldn't recommend her more. Thank you"
- Sarah & Alani

"Many thanks to Rosie who has helped my sweet Trumpet to feel safe & relaxed again. After many months of Trumpet showing stress & discontent he is again a happy cat & a lot more chilled out. What has stood out for me is how much time Rosie gave to us & her continued interest in how Trumps is doing. I highly recommend Rosie. Trumps & I will continue to do all the things Rosie has suggested as we know it works!"
- Trumpet
"Rosie has been absolutely brilliant with us, she has been so supportive and understanding throughout. She explained everything clearly which really helped us understand our training plan and made us approach situations we previously found stressful with a more positive attitude. Thank you Rosie" - Maria & Angel

"Rosie has really supported myself and my husband to understand my little dog Teddy's behaviour. She explained the training in a simple way; we started to work together and with the consistent approach Teddy soon started to change his behaviour. Even if he's having a moment I now understand how to bring his and our stress levels down. Friends have started to notice and comment on the changes. Thank you so much Rosie - best phone call I ever made to seek help from you."
- Teddy
"Thank you for your report Rosie and for your visit last week. It gave us a great deal to think about and helped us to understand more clearly the ways in which we can perhaps help Billy to become less anxious. Understanding a dog's body language was particularly interesting and useful. Being able to observe the more subtle signs of anxiety has been a big help and has enabled us to respond to him by giving him more space. The harness is working a treat by the way." - Billy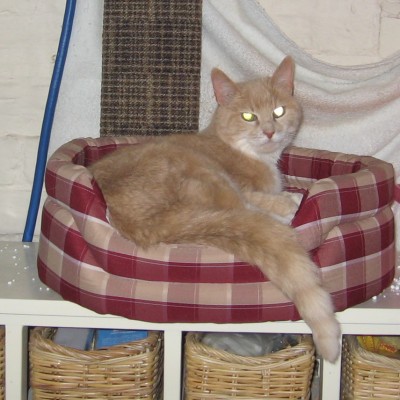 "Rosie helped my dear old cat enjoy her last years, by advising us how to cure her anxieties from a house move and cheeky younger cats. She's brilliant!"
- Cathy & Miss Tibbs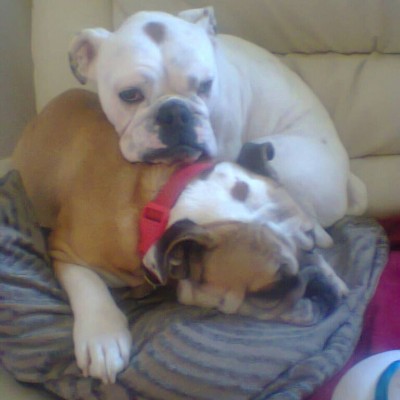 "This is sending a MASSIVE "Thank You!" to Rosie Bescoby, for all of her support with our feuding bulldogs! (I have been recommending Rosie's expertise to anyone with concerns about their pet's behaviour for nearly a year, but have only just got around to putting it down in writing!) Our 2 female bulldogs had been great companions for over 2 years, before they started fighting one another. The fights quickly increased in frequency and severity, culminating in a trip to the Vet. The Practice recommended Rosie to us and we are so glad that they did. Rosie instantly inspired us with her honest and non-judgmental approach (we had worried that the fights were due to our poor ownership skills). We were given so much information, reassurance and encouragement. Persevering with Rosie's recommendations and care plans, we have seen a huge difference in the bulldogs' relationship and they are now the best of friends. We cannot thank her enough."
- Enid & Stella

"I can't thank Rosie enough for her advice and support in helping my 10 year old German Shepherd welcome a new baby into our home. Harry is now calm and happy and back to his old self after a couple of anxious weeks. Amazing!! Thank-you!"
- Harry
"Thorough, practical and effective approach to assessing and treating animal behaviour. Rosie is my first port of call when I need to refer a case or advice with my own dog. Thanks Rosie! " - Andy - a vet

"We were worried about Toffee as she had a fear of buses and large vehicles and so we called Rosie in to help. Rosie was very dedicated and devised some therapy for Toffee which has greatly helped her. We would recommend Rosie to anyone with a doggie problem."
- Toffee

"Thank you so much for all your help with Monique. I was beginning to think that I could not cope with her. You have helped us to turn Monique's behaviour around to a joy to be with. She is now very obedient and loving. You have helped us understand what Monique is feeling and how to deal with it. I can't thank you enough. You have helped us make our lovely dog much happier."
- Monique

"Thank you very much Rosie for all your helpful advice. It was really very interesting and useful and has given me lots to think about."
- Pica - kitten problem prevention phone consult

"Thank you for helping me to read Show White's body language and the suggestions given to overcome her anxiety and fear. Generally, she is now more confident outside and at home. She learnt very quickly to form a positive association with previously scary things such as loud noises and other dogs. She will now play with some dogs or if she still feels a bit worried, instead of barking and lunging on the lead she will turn and look at me."
- Snow White

"Thanks to Rosie for coming and helping me and Boo today. We all got on swell. I've been very worried for Boo's behaviour and now there is hope that we can turn this around. Something I didn't feel until today. I've had it confirmed that his reactions are fear based as I suspected. So now the work begins. Lots of great ideas too. Looking forward to some new training techniques like shaping and scent work. Thanks Rosie- feeling hopeful!"
- Boo

"Brilliant advice on my cat troubles, so quick, helpful and thorough. Thank you very much!"
- Auden & Becca

"I'd just like to say thank you so much. We were at breaking point with Ralphie when we first met (to the point we were thinking of getting rid of him). Obviously we love him dearly and this was a heart breaking idea. We are now all a lot happy (especially Ralphie). Don't get me wrong Ralphie is still a handful and we have a long way to go but that's life!"
- Ralphie

"Rosie is such a brilliant trainer. I asked for her help with my dog who was showing signs of aggression towards other dogs. Rosie clearly explains the theory behind all of her training methods and ensures they are all positive methods including lots of treats and praise! After your initial consultation Rosie is fantastic at keeping in touch - she quickly replies to any queries through email or phone and is keen for regular updates. She explained that Kia was showing signs of aggression due to her being very scared of other dogs and by sticking to the plan and training methods Kia has made huge improvements with other dogs and is beginning to even enjoy being around them again. Rosie is honest from the start that some problems are not easy to overcome and require hard work and commitment but she is with you every step of the way to keep you progressing. One of the important things she has also taught me is how to read Kia's body language which has made for an all round happier dog! Thank you for your help!"
- Kia

"Thanks for all the help and advice! I can't wait to try out the new exercises you've advised with Poppy. I highly recommend Rosie- she listened to all our worries and issues and explained things in great depth and detail. She sent us over our report quickly which explained clearly about the visit and the next steps we need to take regarding Poppy's behaviour. Plus it was all covered by our Petplan insurance because she is APBC registered!"
- Poppy

"Rosie was very friendly but professional & made us feel confident that she knew what she was talking about. Before the visit, Rosie explained what would be happening and what she wanted us to do with the dogs on her arrival. The most useful piece of information we received during the consultation was not responding to negative behaviour & the fact that nothing was going to change overnight so patience and perseverance. Since the visit, Alfie has calmed down a lot. He allows us to groom him, doesn't always jump up at people or bark at other dogs. Everything was set out clearly in a way we were able to understand and we started the programme immediately. The ongoing support after the visit was useful - Rosie replied straight away with any advice she had & it was good to have someone there to reinforce that what we were doing was ok."
- Alfie

"Just a quick note to thank you so very much for the work you have done with Dilla. The changes on walks and towards other dogs are significant and we are all delighted - she is so much more chilled and happy now that walks are pleasurable for us all again. We even went to the beach the other weekend and, although there were other dogs there, she had a great time. It has really made me feel that this will not be a persistent issue going forwards, but one that can be managed and, with time, she will slowly grow more confident. I think it is a question of continuing to work with her and practicing what you've taught us. I don't know if she'll ever be as chilled as she might have been if the incident hadn't occurred, but she's 100% improved and a happy girl when she's out now. I cannot thank you enough. How brilliant you have been for us and the massive difference you have made. Thank you so very much! "
- Dilla

"We recently got a rescue dog and having heard of and met Rosie, we arranged for a problem prevention telephone consult to chat about Molly – our nine month old Staffie cross. Both my husband and I had only had experience with owning dogs from puppy age so we were excited but nervous about being responsible for a rescue dog. We are based in London and organised a phone call with Rosie on the day we brought Molly home and a couple more over the first few weeks of bringing her home. Molly didn't seem to have many problems but it quickly became apparent she was worried when left alone and had not had much training in terms of lead walking or going through the night without toileting. Rosie gave excellent and reassuring advice and I would recommend her to anyone. We are almost seven weeks on and we are able to leave her in the house for up to four hours, having gone from not being able to sleep apart or go to the bathroom without her sitting outside crying. We are now able to get through most nights without indoor toileting. Rosie also advised on leash walking which we continue to work on but have already benefitted a lot from Rosie's advice, even over the phone. Molly is a great addition to the family and getting on top of any issues early on, using only positive reinforcement measures, means that we can give her and us an easier, happier life. Many thanks Rosie! "
- Molly
"Rosie helped me with my very naughty lab Mia when we lived in Bristol. I couldn't recommend her more! If you have a dog with behavioural issues, seek help early, they only get worse with time!" - Mia

"I am a vet who worked closely with Rosie when I was learning about behaviour. Rosie is knowledgeable, enthusiastic, thorough and practical. She is excellent at explaining how to implement the techniques she recommends, and the reasons behind them. The advice she gives to pet owners is tailored specifically for that person and that pet. I learnt a huge amount from Rosie and I can't recommend her highly enough."
- Camilla - a Vet

"We had a behaviour consult for our 8 month old Pointer because we were struggling to control him around other dogs. We also struggled to get him to respond to us when his attention was elsewhere and we wanted to address his pulling whilst walking on his lead. We feel that we benefited massively. His general behaviour has improved vastly, he's learned a lot of new commands and we're finding it much easier to keep him under control when we're out. The biggest benefit for us though, was more confidence with him and the ability to 'read' him more easily. We also gained the knowledge to continue his training after the sessions. His improvement is great and everybody that knows us comments on how well behaved he now is. We are continuing to train him and he is still improving all the time. He's a very clever dog and Pet Sense helped us 'unlock' his abilities. "
- Paddy

"Oscar always gets excited when we have visitors or if he meets people or dogs on his walk. We wanted to have more control in these situations and although we had tried various things, we did not seem to be making much progress. We called in Rosie and she assessed the problem and came up with a plan of action. We booked four sessions and on the second session the problem of visitors at home was solved, it was simple but we had not thought of it. On walks he is very much improved already - my daughter is now happy to take Oscar for walks as he is now under her control. Rosie was great and I would have no hesitation in recommending her to others."
- Oscar
"Thank you Rosie for all the work you have done with Badger. I have sought advice from other people in trying to help him overcome his fear of other dogs with little success, but right from the start I felt you understood his problem and could help him. He has made significant progress but perhaps more importantly I feel I have learned a lot from you and that I now understand him better. As a result I am much more confident in helping him myself. The benefits of your work have not been restricted to Badger, our other dog, Pawsha, has benefitted and as a 'family' group we are much more confident when taking the dogs out together." - Badger