Rosie Bescoby BSc (Hons), PG Dip CABC, CCAB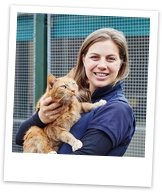 Rosie is a fully qualified Clinical Animal Behaviourist with a degree in Zoology & Psychology from the University of Bristol & a Post-Graduate Diploma in Companion Animal Behaviour Counselling from Southampton University. She is an ASAB Certificated Clinical Animal Behaviourist, a full member of the Association of Pet Behaviour Counsellors, a member of the Association of Pet Dog Trainers (No. 1006), and registered as both a Clinical Animal Behaviourist & as an Animal Training Instructor with the Animal Behaviour & Training Council (the regulatory body that represents trainers & behaviourists to both the public & to legislative bodies).
Rosie has benefitted from working with some of the world's most respected Clinical Animal Behaviourists & continues to attend seminars/conferences & practical handling workshops to continually develop & expand her skill set (click here for a full list of all completed Continuing Professional Development courses).
Rosie:
Has worked closely with over 20 veterinary practices in the local area working with clients experiencing behavioural difficulties with their pets.
Has previously taught undergraduate veterinary students at a leading UK university & is regularly a guest lecturer for veterinary students, vet nurse students, and animal behaviour and training students.
Has marked undergraduate degree-level animal behaviour coursework and APBC applications.
Is the APBC Press and Media Officer and a committee member.
Assesses dogs prior to child adoption or fostering, for legal cases, school dogs and rescue dogs.
Regularly contributes to magazines, both pet owner and veterinary publications (including peer-reviewed journals), features on TV and radio and works with large corporations (see Press & Media page for more details).
Worked for Holly Hedge Animal Sanctuary as their behavioural advisor, working hands-on with the animals and conducting staff training for 4 years.
Frequently conducts staff training for veterinary practices, including educating on low-stress handling techniques and training for puppy 'parties'.
Spends time with her family – two boys, Jack aged 9 and Charlie aged 6; her husband Sam, an equine veterinary surgeon; three dogs Freddie, Spice and Jaffa; and two cats Holly & Fearne.
Rosie Bescoby BSc (Hons), PG Dip CABC, CCAB