Behavioural Consultations
Rosie is not currently able to take on any new behaviour cases.
If you are experiencing ANY problems on walks, check out the 2-part webinar series "Take control of your dog walks" here. Part 1 is available for £20 and there is a discount code at the end for 50% off part 2 (making it just £10). These webinars go through all the exercises you would need to work through whatever your problem on walks.
If you want to understand your dog's body language and communication, this webinar currently has 25% off and is available for just £15. 
If you are experiencing any problems with your cat, check out this webinar for just £15 which explains everything that would need to be put in place to help all cats.
Visit www.apbc.org.uk or www.abtc.org.uk to find your nearest behaviourist.
Adoption/fostering and school dog assessments
This service is designed to assess animals and the homes of potential adoptive parents or foster carers or school dogs.
Assessments are charged at £240 for one dog within 5 miles of BS20. Additional fees apply per dog in the household and to cover travel expenses and time for visits over 5 miles (up to 15 miles).
Problem Prevention Consultations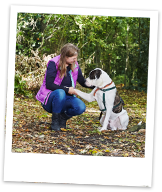 Problem Prevention Consultations are designed for those getting a new dog, rabbit or cat and wanting advice, either before or just after the pet is first brought home. Alternatively, these are suitable if you are expecting a new baby and want advice about how to introduce the new member of the family to your dog, cat or house rabbit to minimise stress for everybody. Information is given about how to prevent behaviour problems arising and set everyone up for success.
Remote pre-purchase consults cost £55 for 1 hour and include email advice up until the pet is brought home or the baby is born!
Puppy/kitten remote consults are available up to 14 weeks of age and include email support for 2 weeks and cost £100 for 1 hour.
Alternatively check out this webinar about Puppy Problem Prevention for £15.