Help! I'm having problems with my pet!
Due to unprecedented demand, I am offering a limited number of one-off coaching sessions per month.
These can be held remotely, or if preferred and local (within a 15 mile radius of BS20) a house visit can be conducted (additional costs apply*).
The session will last around 2 hours and gives us a chance to chat about anything you like, such as:
Any problem(s) you are experiencing with your pet – I can explain why your dog or cat might be exhibiting certain behaviours. Very often, simply having a better understanding of the problems leads to a huge shift in how you perceive the issues and your pet.
What can be implemented to stop the problems from getting any worse
Initial advice on what can be done to improve things.
You will be sent any relevant handouts and access to other resources and receive 2 weeks email support to clarify anything that was discussed.
For behaviour problems, a veterinary referral will be required prior to booking and if necessary the consultation cost also includes any discussions required with the referring vet following the session.
Depending on the problem and suitability, a further remote session may be recommended – this will be at an additional cost*.
Who are these sessions suitable for?
Anyone who is experiencing problems with their dog or cat, anywhere in the world.
Anyone who wants a better understanding of their pet, to be able to do better.
Anyone who is struggling to find other professional training or behaviour support.
Anyone who is keen to get started on the right road with any issue that is being experienced.
(*The cost of a remote session is £200. Additional costs apply for local house visits and if an additional remote session is recommended. As a full member of the APBC and a CCAB many pet insurance companies will cover the cost of the session – excesses and exclusions will apply. Check your policy documents and insurance company for more information.)
If you are experiencing ANY problems on walks, check out the 2-part webinar series "Take control of your dog walks" here. Part 1 is available for £20 and there is a discount code at the end for 50% off part 2 (making it just £10). These webinars go through all the exercises you would need to work through whatever your problem on walks.
If you want to understand your dog's body language and communication, this webinar is for you.
If you are experiencing any problems with your cat, check out this webinar for just £15 which explains everything that would need to be put in place to help all cats.
Problem Prevention Consultations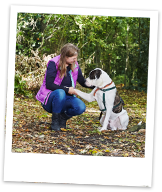 Problem Prevention Consultations are designed for those getting a new dog, rabbit or cat and wanting advice, either before or just after the pet is first brought home. Alternatively, these are suitable if you are expecting a new baby and want advice about how to introduce the new member of the family to your dog, cat or house rabbit to minimise stress for everybody. Information is given about how to prevent behaviour problems arising and set everyone up for success.
Remote pre-purchase consults cost £55 for 1 hour and include email advice up until the pet is brought home or the baby is born!
Puppy/kitten remote consults are available up to 14 weeks of age and include email support for 2 weeks and cost £100 for 1 hour.
Alternatively check out this webinar about Puppy Problem Prevention for £15.
Adoption/fostering and school dog assessments
This service is designed to assess animals and the homes of potential adoptive parents or foster carers or school dogs.
Assessments are charged at £240 for one dog within 5 miles of BS20. Additional fees apply per dog in the household and to cover travel expenses and time for visits over 5 miles (up to 15 miles).